His undying devotion has sent this Sikh on a mission. From teaching how to tie turbans at home to organising camps for youth, his efforts have helped revive interest in the religion. Priya Gill meets the Delhi-based sewadar
WHO: HARMEET SINGH
WHAT: FOUNDER OF SIKH COMMUNITY GROUP SIKHI SIDAK
WHERE: DELHI
WHEN: BORN 1980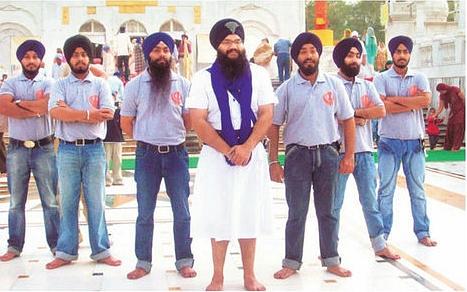 Harmeet Singh wears his faith loud and proud. Determined to help others rediscover Sikhism. the 30-old has been dedicated to seva (selfless service) for the past four-and-a-half years. "I wanted to start something new which would give a platform to the youth of today. My aim was to attract the younger generation towards seva and the values of our religion.
Singh, assistant administrator for a computer corporation in Delhi, developed a Sikh community group called Sikhi Sidak in 2005 to bring awareness about Sikhism.The group's
THE SIKH ARMY: Harmeet Singh (center)  and his volunteers work hard to spread the message of seva and Sikhism. Here, Sikhi Sidak volunteers attend a group trip to Gurdwara Sachkhand, Hazoor Sahib, Maharashtra.

website gets 1,500 visitors monthly There you can browse articles on Sikhism, have an online turban tying tutorial, play online games, look for jobs near you, keep up with the group's latest projects and find out how you can get involved.
Sikhi Sidak now has over 200 volunteers since its inception; and volunteers hail from diverse backgrounds, Most Sikhi Sidak members dedicate their weekends to seva. "We practice, preach and promote Sikhism. We are constantly learning from one another and everyone has something positive to bring to the table. It's a spiritual relationship. There are no expectations. The group has changed my life;" says Singh passionately.
BACHIYAN DI FULWARI
In January 2005 Singh launched a Sikh camp for kids." The camps are a platform for kids to grow. Kids go to the Gurdwara but they don't pay attention to the values being laid out before them. I wanted to generate interest in the basics of Sikhism" he says
He organized Sikh-related at Bachiyan Di Fulwari like painting and turban tying competitions so kids could enjoy as they learn about religion encouraging them to take an interest on their own.
Sikh Sidak holds three camps a year as well as monthly camps in Delhi, Noida, Gurgaon and Faridabad. Each camp has 750-1000 young attendees aged 15-25. Essay writing, turban tying competitions and poster making - which features social concepts like female foeticide - are organized activities. In addition, Sikh animated films are screened and a question and answer session held after. Camps have also been held Paonta Sahib Gurdwara in Himachal Pradesh, Baba Deep Singh Shaheed Gurdwara in Amritsar and Guru Hargobind Sahib Gurdwara in Gwalior, Madhya Pradesh.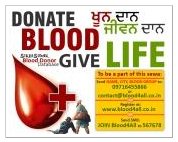 BLOOD4ALL
Singh and his volunteers launched their next initiative, called BLOOD4ALL in 2008. Providing blood for emergency situations, we follow the mat of the Guru Granth Sahib to see God in every one. We serve not just the Sikh community, but all of humanity says Singh. Their website, blood4all.com allows anyone to register as a donor or bequest blood So far. they have 170 donors and have provided blood for more than 100 people.
TURBAN AT HOME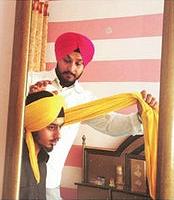 Learn how to tie a turban in the comfort of your own home. With 90 volunteers across Delhi and even Agra, the group has helped 250 people tie turbans since 2009. Turban-wearing females also volunteer to teach other females how to hone their skills in the art of turban tying, People of any age can avail themselves of the service. So far locals from the age of 9 to 35 have perfected their turban tying technique. Anyone can register online to be a coach, and if someone is interested to learn, they simply call the number on the website www.sikhisidak.com and a meeting is arranged with the volunteer closest to them.