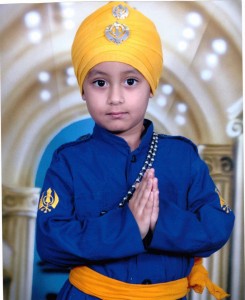 Turban-Group-KESKI-1st-Position - Hoonur Kaur - Fresno
More than 450 participated throughout the world between ages of 1 and 84.
SAN JOSE – Punjabi radio USA successfully organized second world turban competition on a very large scale. This competition was divided into four groups as Dumalla, Keski, under 16 and over 16. The competition was organized on Punjabi Radio USA Facebook fan page and more than 450 people from around the world between ages of 1 and 84 participated in this competition.
According to Punjabi Radio USA's general manager Harvinder Singh Kang, General manager of Punjabi Radio USA said that this competition was to raise the awareness of Turban in Sikhs and to bring them closer to their culture. Grand prize was given to Lakhveer Singh Sidhu from Fresno California.
Other prizes to be given are iPad, Amazon Kindle and Internet Radio to the contestants who secured first, second and third position in all the groups.
In Dumalla group first position was secured by Gurjant Singh from Fremont California followed by Tejinderpal Singh from Bathinda and Tejinderpal Singh from Ludhiana respectively.
In Keski group a Kid from Fresno Hanoor Kaur Khalsa took the first position followed by Manjinder Kaur from Texas and Harsharan Kaur from Punjab respectively.
Under 16 years of age group competition Joshdeep Singh from Fresno marked first position and the second position was bagged by Luvdeep Singh from the same town.
However, 1 year old twin brothers named Sahib Bir Singh and Sahej Bir Singh stood third.
Over 16 years of age group Lakhveer Singh from Fresno topped while second and third positions were taken by Pawan Singh Sidhu from Fresno and Surjit Singh from Houston respectively.