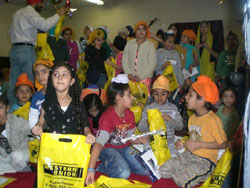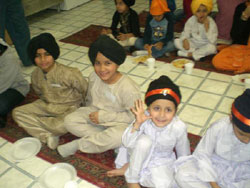 120 people attended a crash course on Martyrdom at Gurdwara Singh Sabha Cambridge, Ontario.
Guru Gobind Singh Study Circle Canada (GGSSC) organised a course based on the tradition of martyrdom within Sikhism and how it relates to today's application. The course was delivered this time to students in the west end of Ontario at Cambridge Gurdwara on 26th, 27th 28th Dec 2009.
The course was so spell binding that the parents of 117 students also attended the course without missing a single day. The multimedia course which is delivered in an auditorium like setting within the Gurudwara, was a learning journey for most attendees as they never could have got a chance to sit down and understand the sequential flow of martyrdoms within the Sikh History and what was the message behind those. This course also answered the question on how after Guru Arjan Devji's martyrdom, it became imperative to wear Kirpans by sixth Guru and the tradition of Saint Soldiers found existence within Sikhism.
The most revealing part was how martyrdom relates to dying while living and living without the five vices of- Anger, Greed, Lust, Attachment and Ego. It helped us apply the learnings from the shaheedis like accepting the will of God sweetly(Guru Arjan Devji), Never Take Fear or Give Fear (Guru Tegh Bahadurji), Never believe in caste system (Guru Gobind Singhji) and always keep up unshorn hair as a mark of respect to the shaheeds. A video from the course is linked below-
Some old Videos...
GGSSC Canada has mastered the art of delivering important History Courses to teenagers with audio video and live interaction so nicely that students keep calling and inquiring about the next course. Moreover, these course take only 7- 8 hours of time over 3 days and then there is a test with great prizes like Laptops, Playstations or Toys r Us Gift cards. One of the parents said " We ourselves learnt so much from this course that we had never thought of learning at a teenager event. This course has definitely brought me closer to Sikhism." The course was applauded by the Cambridge and Kitchener sangat and have requested GGSSC Toronto to continue the service to that region. GGSSC is planning to conduct similar courses in North America and would urge you to contact S. Amarpreet Singh at [email protected] or 647 280 5940 for further details. For more info on GGSSC Canada please visit www.ggssc.ca