If you have been driving across Times Square in the past few days, you may have come across a huge billboard featuring a turbaned Sikh elderly gentleman. But in case you haven't seen it and happen to be in New York City, then waste no time and go click a selfie with this unusual model, making Sikhs and Indian Americans proud.
Northridge, California, resident Pritam Singh is proudly adorning the billboards for Dollar Shave Club, a California-based company popularly dealing in shaving and grooming products. The 74-year-old Singh appears in the company's new commercial for beard oil, a unique product targeting men who like to keep their facial hair.
In a commendable move toward showcasing diversity, the company chose a Sikh model and also featured a thoughtful tagline for its commercial which reads, "Beard Oil Because for Some People Beards are Religion."...
...And even though this may be Pritam Singh's first major modelling moment, he has been a part of a few memorable movies too, albeit in small roles. In Will Smith starrer Hancock (2008), he played the part of a liquor shop owner who is talking to Smith in a scene. He has also played small parts in Sleeper Cell, Princess Diaries, Spider Man and Naked Gun besides shows such as Seinfeld, ER and Masked along with many commercials.
Singh came to America from Patiala in India back in 1983. After initial years of struggle, he set up a real estate business. He ventured into acting not just as a personal passion but because he was disappointed by the meager Sikh representation in the American mainstream.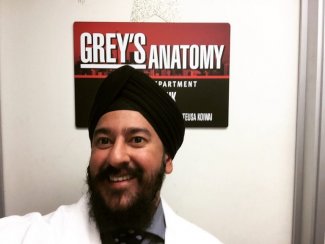 His son, Amandeep, who is an aspiring actor and has appeared in an episode of Grey's Anatomy, says, "It is gratifying to see my dad on the iconic billboard. It is as if his dream to see Sikh representation is finally realizing....
...Amandeep aspires to be in Hollywood himself and goes by the Instagram name of "That Hollywood Sikh." He laughs, "My friends have started calling me as the Sikh in Hollywood." He was also featured in commercials for Bank of America, Walmart, Samsung and Wells Fargo. He is currently working on a pilot where the central character is a Sikh played by him and hopes his project will be on a national broadcast someday.
But for now, the father-son duo are busy receiving calls from friends, relatives and acquaintances about the big break in big city!