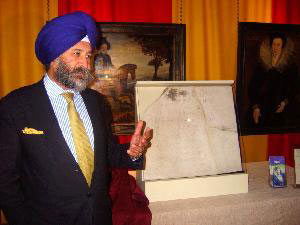 SABRAON, Punjab (KP)—Defences erected by the Sikh army during the first Anglo-Sikh wars have been discovered by UK based historian Amarpal Singh Sidhu. The defences, built for the battle of Sabraon in 1846, remarkably still survive, albeit in a badly faded state. But parts of these are being quickly destroyed by local farmers who are rapidly appropriating any remaining uncultivated land in the area. Amarpal Singh, who has travelled extensively through Sabraon and the other battlefield sites in the last few years believes only action taken in the very near future can save these defensive fieldworks, the first to be found.
In an attempt to preserve these newly-found historical treasures, the Anglo-Sikh Heritage Trail, a UK based organisation with the primary objective of highlighting and promoting Anglo-Sikh heritage, is calling on the Indian authorities to take swift action.
Sarinjit S Bahia of the Trail said, "Farmers have already expanded their farms right up to the banks of the Sutlej at many points destroying and levelling any remaining evidence of the battle. This battlefield, like the others of the Anglo-Sikh Wars, has no protection from the Government. At the moment it appears to have been reasonably undisturbed, but if action is not taken now no visible scar of the conflict will be left on this famous site."
It is believed that only Sabraon, out of all the Anglo-Sikh battlefields, has evidence of Sikh field defences remaining now. Yet few, if any, people visit the site and even fewer locals realize this stretch of land held the famous conflict. They assume the village of Chote Sabraon was where the battle took place and that the Sham Singh Attariwalla Gurdwara close to the village was where the great general died. In fact Sham Singh commanded the eastern end of the entrenchment and died fighting bravely within the entrenchment.
No official signs exist and no memorials apart from the ageing British obelisks mark the important areas. This is something the Anglo-Sikh Heritage hopes to address and rectify if the site is preserved.
Sarinjit continues, "We owe it to future generations to preserve the rich history of our country and allow them to learn firsthand the lessons it has to offer. The Government has an important role to play in ensuring the needs of local farmers can be balanced with the imperative to preserve the historical landscape, and intervention must come at this critical point while the defences still stand."