Pixar's current project, "
Brave
", represents a few firsts for Pixar. The film is Pixar's first fairy tale, the first to feature a female heroine, and the first to be directed by a woman – though it seems Brenda Chapman's been bumped to co-director since Disney attached Mark Andrews to direct the project to its finish. "Brave" is said to be somewhat darker and more mature in tone than Pixar's previous films, but still child friendly.
"Brave", written by Brenda Chapman and Irene Mecchi, tells the story of a lionhearted young Scottish princess, Merida (voiced by Kelly Macdonald). Merida is your typical strong-willed, tomboy princess: she is a gifted archer, unafraid to face mythic beasts, and adamant about determining her own destiny. In her defiant ways, Merida flouts an age-old custom and finds herself asking an old witch (voiced by Julie Walters, aka Mrs. Weasley for all you Harry Potter fans) for help. As in all Disney movies, you can't trust an old witch, and this one grants Merida a wish that, of course, includes an unforeseen catch. This sends Merida on a journey to undo an arduous curse in which she'll learn what it really means to be brave while redefining what what it means to be "lady-like".
If you're still sad about the end of "Harry Potter", look forward to joining some of the cast as they voice "Brave" characters this summer. In addition to Julie Walters, Emma Thompson (Professor Trelawney) voices Merida's mother and Robbie Coltrane (Hagrid) voices one of three boisterous lords in the film. Other voices include Bill Connolly and Craig Ferguson.
Merida isn't your usual 2-D Disney Princess, as she'll be hitting theaters in 3-D and CGI like Rapunzel. But you can be sure that Jasmine, Snow White, Cinderella, Aurora, Belle, Pocahontas, Mulan, Tiana, and Rapunzel will soon be welcoming a Scottish princess.
It's interesting that Pixar's first fairytale pick-up centers on a princess, and is Disney's first female protagonist to act independent of romance (this is speculation, of course, but there doesn't appear to be a lead male character to fill the spot). All of the Disney princesses have been rather independent, but they have progressed in their dependency upon a prince charming.
The first generation of princesses; Snow White, Aurora, and Ariel, were all independent but still pining for their knight in shining armor. The second generation; Jasmine, Belle, Pocahontas and Mulan, progressed beyond independence to being bold and rebellious, but at the end of the day, were still weak in the knees for their princes.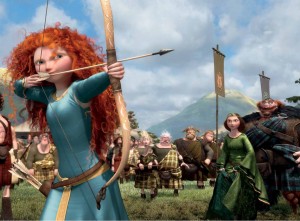 The most recent Tiana and Rapunzel have continued bearing the fiercely independent characteristic, but princes inescapably accompanied both on their journeys.
It seems that Disney has been telling young girls that a man is necessary for success and that romance is a crucial part of life. Now, in "Brave", Merida fights to save a kingdom all on her own. What does this reflect about women today? Women originally had no choice, but to rely on men due to society and nature. But over time, women have begun to fight for their independence though never really achieving the means to fully embrace it. Today, there are many single workingwomen who are quite successful and happy on their own. Perhaps Pixar's choice to revolutionize one of Disney's princesses reflects a landmark in the evolution of women's roles in society.
"Brave" seems to be a continuation of Pixar's innovative efforts as it explores less popular fairytales and features Pixar's first female heroine. Look out for "Brave" this summer — June 22, 2012.
Fresh and fearless, Cinemista