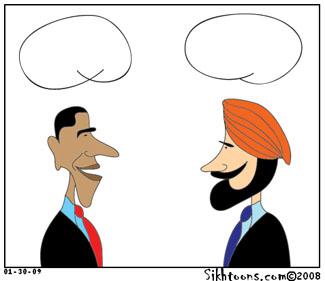 Jan 30th, 2009 New York – Sikhtoons.com puts President Obama in the hot seat. Since the President failed to mention Sikhs in his "We are a nation of…" statement in the inaugural speech, he now sits face to face with a Sikh.
A cartoon sketch has already been created for you. All you need to do is come up with the supporting text to complete the cartoon preferably putting a smile on the readers face. The winning entry will be selected by Vishavjit Singh, creator of Sikhtoons.com.
The winning caption gets published on Sikhtoons.com and the author gets a framed and autographed (by creator of Sikhtoons.com) copy of the winning caption.
The deadline for the caption contest is February 15th, 2009.  The completed cartoon will be published the following weekend.
Easy one-click submission and contest details at the link below: http://www.sikhtoons.com/FifthCaptionContest.html.
Let your creative juices flow and feel free to refer to over 600 sikhtoons on the website. Keep it short, funny, sarcastic or ironic whichever suits your style.