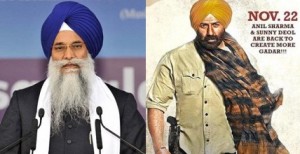 October 16, 2013: Akal Takht Jathedar Singh Sahib Giani Gurbachan Singh had objected to the title of upcoming Bollywood movie "Singh Sahib the great". On September 13, 2013 Akal Takht Jathedar Giani Gurbachan Singh had taken notice of naming of the upcoming Hindi movie as "Singh Sahib", because as per Sikh tradition the term is used for Jathedars of the Sikh Takhts.
Giani Gurbachan Singh objects to upcoming movie Singh Sahib the great" The word Singh is a very religious and respectable word in the Sikh religion. Using it in the film is being disrespectful. The producer and the director of the film should take permission from the Shiromani Gurudwara Prabandhak Committee (SGPC)," he had added.
But according to recent information the producers of the movie did not pay any heed to the objections raised by Giani Gurbachan Singh. As per media reports filmmaker Anil Sharma has said that the title track of his next movie "Singh Saheb The Great" will be unveiled on its lead actor Sunny Deol's birthday on October 19.
"On the night of 18th October at 12 am, the title track of Singh Saheb The Great will be released on YouTube. The song is composed by Sonu Nigam and this is a gift to Sunny Deol on his birthday," Sharma said. Sunny will turn 57 this October.
Singh Saheb The Great, slated to release on November 22, will mark model Urvashi Rautela's entry in Bollywood.