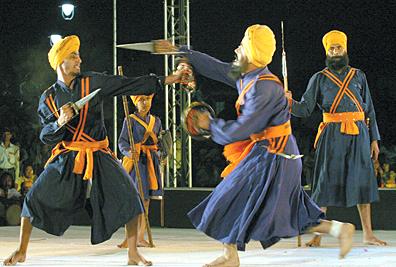 Gatka, the ancient martial art form of Sikhs has flourished in North India for hundreds of years, and to further popularise 'Gatka' among Sikh youths, a contest was organised in Ludhiana recently.
Dressed in traditional attire of a Sikh warrior, students converged in Ludhiana to participate in a special contest of 'Gatka'.
Organized by the 'Akal Khalsa Welfare Society', the contest witnessed drew 12 teams from different parts of Punjab for the day-long event.
Jathedar Amreek Singh, the chairman of Akal Khalsa Sports Club, said: "We have received a very good response. Earlier, our children went to clubs and gyms. But with the popularity of Gatka art in villages and cities, there is no need for them to go to gym and clubs. They are learning and practicing it with passion. Younger generation gets connected to the society by participating in such games."
Gatka is a complete martial system, which involves spiritual, mental and physical skills in equal portions to defend one self and others.
Apart from acquiring skills to defend oneself, 'Gatka' also helps an individual with other aspects of his life, as it makes the mind alert, responsive and fearless.
The Sikhs mastered 'Gatka' and perfected its use in battle. The techniques involved are extremely effective for defence and attack as well as visually spectacular.
Though presently battles are no more fought with traditional techniques, but the skill of 'Gatka' is being taught to students to enable them remain physically and mentally alert.
said: There are lots of benefits of learning gatka. We get to learn self-defense aspect from it. The time is very bad and a girl can't go alone anywhere. By learning gatka we can go anywhere with full confidence because we know how to look after our safety. There is no other game where self-defense aspect is taught.
Sandeep Singh, one participant, said: "Other games like cricket and all are given much importance these days. A number of Sikh children are going away from the Sikhism and getting addicted to wrong practices. We want to take a large number of our children on the path of Sikhism through Gatka so that the upcoming generation will stay away from all kind of bad habits.
Several Sikh shrines, educational institutions and clubs now teach 'Gatka' so to keep alive the ancient art form.
Though Gatka contests are held occasionally, the spectacular art form has been performed extensively during Sikh festivals and other religious occasions.
In its physical form, Gatka is the original feudal art of saint soldiers 'Khalsa', for whom the way of life is the same as the art of war.
Gatka art exists amongst the Sikhs, who have passed down their techniques through generations since the sixth Sikh master Guru Hargobind Singh wore the two swords of 'Miri' and 'Piri'.
Now, the students take an initiative to observe it and keep the traditions flourish.