THE COMMITMENT HONOURED
Seventy-five-year old Sardar Major Singh lives in village Uboke which is located in tehsil Patti of Tarn Taran district in Punjab (India). The family of Major Singh consists of his wife and a son who runs a shop in the nearby Patti town. About 21 years ago, while riding a motorcycle, Major Singh met with a serious accident in which his backbone and spinal cord were badly damaged. He could not sit and walk. For about six years he was mostly confined to his bed. He got treatment from various hospitals during this time but very little improvement occurred. He was struggling to walk even a little. The doctors gave him no hope and his life became miserable.
One day he requested his family members to take him to Sri Harmandir Sahib (Golden Temple) in Amritsar which is at a distance of about 60 kilometers from his home. After reaching there, he prayed, "Guru Ramdas Ji, if you make me well, then for the rest of my life I will wash used utensils (Juthe Bhande) at your place". His prayer was accepted and he slowly became fit again.
Sardar Major Singh did not forget his commitment. For the last 15 years he has been travelling daily from his home to Sri Harmandir Sahib to wash used utensils in the Community Kitchen (Guru Ka Langar).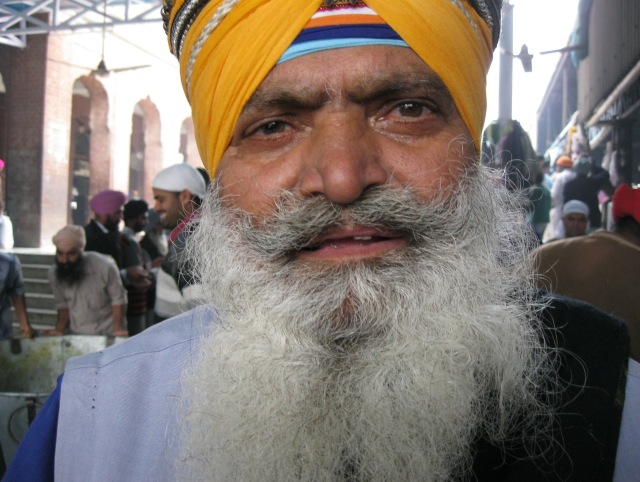 Sardar Major Singh in the Community Kitchen (Guru Ka Langar)
Everyday he gets ready in the morning and cycles about 7 kilometers to reach Patti railway station to board the train for Amritsar. At Amritsar railway station he has kept another bicycle with the help of which he reaches the Guru Ka Langar building of Sri Harmandir Sahib. Then he is fully focused on washing.
When one looks at him washing utensils, he does not seem to be a seventy-five-year old person; he appears full of energy like a youngman; the glow on his face is amazing. After washing for about four hours he starts the journey back to his home.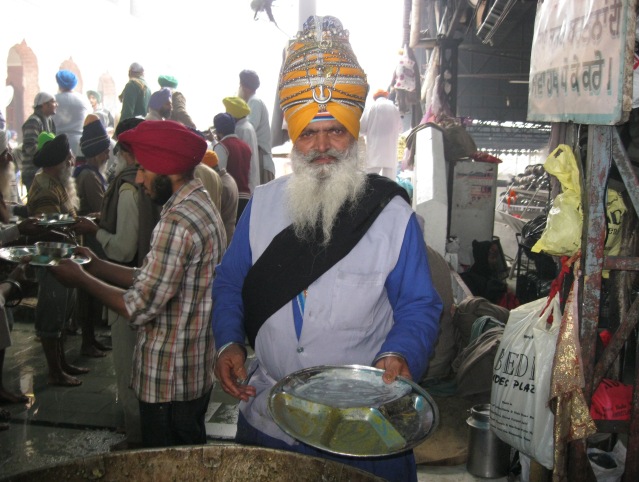 Sardar Major Singh washing used utensils (Juthe Bhande) in the Community Kitchen (Guru Ka Langar) of
Sri Harmandir Sahib (Golden Temple), Amritsar.
He follows his daily schedule very strictly and is not deterred by the extreme cold and hot weather. Even rains cannot stop him. Thus he has honoured his commitment for about 15 years. He hopes to continue like this till his last day. When I praised his determination, he said, "I do not deserve any praise; it is Guru Ram Das who brings me here everyday".
(The author is a Professor in the Department of Biotechnology, Indian Institute of Technology Roorkee, Uttarakhand, India; E.mail : [email protected]; Website : www.gsrandhawa.in )