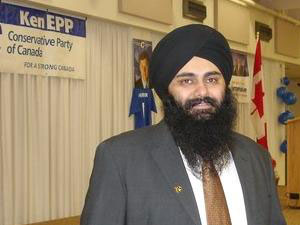 Toronto, Oct 16 (IANS) It is balle-balle time for over half a million Punjabis in Canada as all the nine Indian-Canadians elected as MPs in Tuesday's election are of Punjabi origin. In fact, the new parliament now has three turbaned Sikh MPs as Tim Uppal of the ruling Conservative Party joins Gurbax Malhi and Navdeep Bains of the opposition Liberal Party in the 308-member House of Commons.

Uppal, the 34-year-old Canadian-born property investor, has been elected from Edmonton Sherwood Park for the first time.

Another first-time Punjabi MP is Devinder Shory who has been elected from Calgary Northeast, beating two fellow Indian-Canadians - Sanam Kang of the Liberal Party and Vinay Dey of the New Democratic Party (NDP).

Shory, who is a practising lawyer in Calgary, previously tried his luck in the Alberta provincial elections.

Malhi, who was the first turbaned Sikh to become an MP in Canada in 1993, is back in parliament for the sixth time.

"The secret of my success are my diverse constituents - 50 percent of whom are white. I listen to them, I am where they want me to be and I raise their concerns in parliament," Malhi told IANS after his record victory.

Expressing happiness over the election of another turbaned Sikh, he said: "It is good to have more of our people in positions of importance. Tim Uppal's election is good news for us. He will help spread the message about ourselves - who we are."

In his new term, Malhi said, his priority is to facilitate Canadian visas for visitors from Punjab.

"Right now, the Canadian office in Chandigarh does not issue visas to most people. I introduced a motion on the issue in parliament last year for a bond system and I will do it again now," he said.

The six-time MP said he will also introduce a motion to check fraud marriages by Indian-Canadians in Punjab.

"The motion will make it mandatory that if someone goes to Punjab to get married and bring his or her spouse, he or she should not be allowed to remarry for five years if they divorce after coming to Canada," he said.

Deepak Obhrai, who was a parliamentary secretary in the last government, recorded his fifth victory in Calgary East seat, securing 66.5 percent of the vote.

Chandigarh-educated Obhrai, who is expected to be given a higher position when Prime Minister Stephen Harper announces his new team soon, said: "It is up the prime minister to decide. I am not sure about anything because there are many contenders."

Canada's first Indian-origin MP Nina Grewal was elected for the third time from Fleetwood-Port Kells in British Columbia province, as was fellow Punjabi Ruby Dhalla from Brampton-Springdale on the outskirts of Toronto.

Navdeep Bains retained Mississauga Brampton South and Sukh Dhaliwal Newton-North Delta for the Liberal Party.

Former Canadian health minister Ujjal Dosanjh managed to win by only 779 votes in Vancouver South, securing 16,774 votes as against 15,995 by Wai Young of the ruling party.

"We (Punjabis) are more than half a million among 33 million Canadians. To have nine Punjabi-origin MPs in the 308-member parliament is our big achievement," said Balwant Sanghera of the Punjabi Language Education Association (PLEA) in British Columbia.