Balio Charaag - A Beautiful New Gurbani Kirtan CD
Mandip Singh Dhamoon is a physician and musician who lives in New York City. A first generation South Asian American, he grew up in Syracuse, New York, where, as a child, he started to sing shabads and accompany others on the tabla at gatherings of the local Sikh community. He studied Western classical violin for several years in his late teens. In 1996, he studied North Indian classical voice and tabla with the music director Mohinderjit Singh in Mumbai, India.

He continued vocal training with Ghulam Mohammed Khan of the Kalavant Center in New York City, and has performed with this organization at the annual Deepavali celebration at South Street Seaport. He sang on the album, "Sonawa Ke Datawa" (2000) -- a recording of Indian-Trinidadian folk songs written by the noted Trinidadian poet and song-writer Kenneth Vidia Parmasad - along with Sasha Kamini Parmasad and Vishala Parmasad.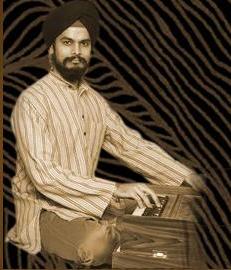 Balio Charaag/The Light Within, recorded in 2007-2008 in New York and Trinidad, is his first CD. This CD contains shabad kirtan, devotional poems set to music. The words were written in Punjabi between the 1400s and 1600s by some of the Sikh Gurus and by the saint, Kabir. These poems investigate the soul's yearning for the Divine and emphasize the importance of peace and universal love. The six shabads on this CD were set to North Indian raagas and taalas. A raaga is a structure of notes and musical phrases that is associated with a particular mood, time of day, and intention. Taalas are foundational rhythmic structures which are improvised upon to fit the way a particular tune is organized.

The Shabad renditions on this album are mellow, lyrical and heartfelt. Mandip Singh has a wonderful voice; full of love and devotion. Listen to the clips yourself from the album (below) and you will know that you want to listen to this album over and over again.