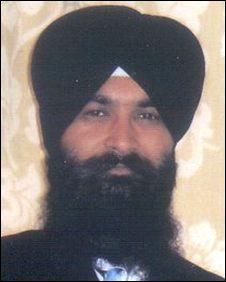 AMRITSAR/LUDHIANA: On January 8, Sukhwinder Singh showed extraordinary courage when he chased and confronted two youth near East London's Barking station, after seeing them mugging a young woman. He was stabbed by one of them and died in hospital. He was subsequently declared a hero by London Metropolitan Police.

On Friday, 29, January, his community bestowed upon him another honor when the Jathedar of Sikhism's highest temporal seat, the Akal Takht, declared him 'Sikh Quom da Shaheed' (Martyr of the Sikh Panth). The honor came a day after his 10-year-old son, Gurinder, lit the funeral pyre of his father at Dholanwal.

While conferring the rare honor, the Sikh clergy also declared that Sukhwinder's portrait would be put up in the Sikh museum located inside the Golden Temple.
The body of brave Sikh hero, who was stabbed to death was returned to the Punjab accompanied by his father.

Satwinder Singh was stabbed to death as he chased robbers, who had been robbed a lady on January 8.

Three men were arrested by police but have been allowed bail. No further arrests have been made

Cllr Inder Singh Jamu said "The untimely death of late Satwinder Singh has earned great recognition for this act of Bravery which has earned enormous fame to Sikhs particularly in Sikh uniform Punjabis and Indians UK..  Keeping in view his bravery, Prince Charles, Prime Minister Gordon Brown, Leader of the Borough of Barking and Dagenham Mr Smith who is my Ward colleague, Police Commander and many more leaders of various organisations have sent a massage of condolence and sympathy to the family of departed soul Satwinder Singh's family and Sikh community as a whole at Gurdwara Singh Sabha London East Barking. 

"The leader of borough of Barking & Dagenham Cllr Liam Smith has kindly agreed to my request that a resolution to recognise the Bravery of Satwinder Singh will be passed in the next Assembly of the Council.  Sardar Pakhar Singh father of Satwinder Singh of Village Dholanwal District Ludhiana arrived here on 22 January to take the body of his son back home.

"Bhog ceremony was held on 23 January at Gurdwara Barking which was heavily attended by various organisations and Gurdwaras representatives in spite of international conference on same day at Coventry against the new Sikh Calendar.  To provide financial support to the victim's family money was generously donated from various parts of the country including donations from British people.  Ten thousand pounds and two Lacs from individuals who will pay direct to the family in Punjab were collected.

"A local Funeral Company (A G Butler) who arranges funeral services and charges over one Lac Rupees has conducted a free service as a token of sympathy with Sikh community.  You will be surprised to know that the High Commission of India London has kindly offered and agreed to pay and made all arrangement to send the body by Virgin Airways from London to Delhi airport on 26 January.