...Humanitarian is an apt description of Tim Uppal, a compassionate conservative who believes in helping the vulnerable wherever they may be.  So it's not surprising that the Canadian-born Sikh travelled to Iraq this summer to provide humanitarian assistance to the survivors of the genocide perpetrated by the Islamic State, also known as ISIS or ISIL.
Taking time away from family and work, Uppal made the long trip from Edmonton, Alberta to northern Iraq to help those who have suffered unimaginable losses and continue to endure terrible living conditions.    
In the summer of 2014, ISIS swept across northern Iraq, capturing vast swathes of territory.  And the jihadist army established a so-called caliphate based on a genocidal ideology that justified the eradication of religious and ethnic minorities.
The Islamic State systematically carried out campaigns of ethnic cleansing, mass murder, abductions of women and children, and sexual violence.  The jihadists also deliberately destroyed cultural artefacts and churches, and looted and sold ancient works of art on the black market.
The Islamic State was finally defeated in 2017, driven from its strongholds in Iraq.  However, ISIS fighters remain active in Iraq, adopting terrorist tactics, including suicide bomb attacks on civilian targets.  Clearly, the security situation in Iraq is far from stable.
It was against this backdrop that Uppal travelled to the region previously controlled by ISIS.  From July 17 to 24th, he worked as a volunteer with the faith-based humanitarian organization Khalsa Aid, which operates out of Great Britain.  His humanitarian mission took him to the Kurdish controlled population centre of Erbil as well as to camps for Internally Displaced Persons (IDPs) in northern Iraq...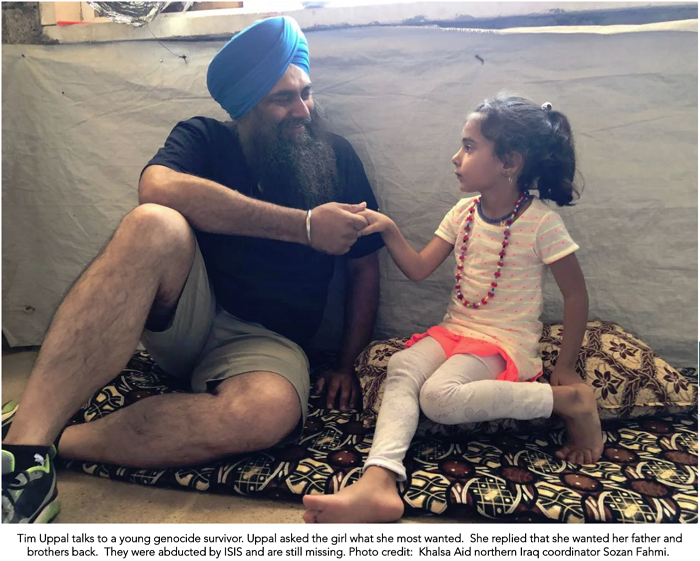 .....
Winning trust
Despite his good intentions, Uppal had work hard to win the trust of the genocide survivors    
Uppal is a Canadian-born observant Sikh who wears a turban and full beard.  And most of the IDPs in northern Iraq have probably never met a Sikh before.  Did they assume he was Muslim?  Were they fearful of him?  "I think it was a bit of both ways," he replied to the politically incorrect but obvious question. 
"Most people had no idea who a Sikh was," Uppal asserted.  "Many of them, I guess, because of social media and TV, kind of associated (Sikhs) with India.  But otherwise they didn't know" about Sikhs.
"I think there was some hesitation," Uppal acknowledged.  So he tried to break the ice in conversation by smiling and being as friendly as possible "just so they are comfortable," he said....