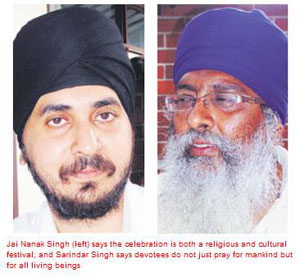 A grand celebration is being held here to celebrate the three centuries that have passed since the collected wisdom of six Sikh gurus, as well as several other Hindu and Muslim saints, were compiled to form the Sri Guru Granth Sahib Ji.
The Malaysian Sikh Youth Organisation will be holding a five-day programme, beginning today, at its headquarters in Titiwangsa to celebrate the anniversary.
"We began preparing for the 300th anniversary celebrations four years ago. All the work here is being done by an army of volunteers aged from 16 to 70 and we are expecting about 500 to 700 people to turn up every day," said organisation exco member Jai Nanak Singh.
One little corner of the well-heeled and quiet Jalan Kuantan area will be transformed for five days. There will be the singing of hymns, meditation sessions and delivery of sermons by scholars brought in from India.
The area, which normally only sees the sedate shades of brown, green and grey of trees and houses, will be turned into a riot of colours with a Punjabi cultural bazaar, featuring items ranging from sweets to clothes.
And as is normal and expected in every Sikh event, scrumptious vegetarian fare will be made available to tickle the taste buds of devotees.
The events will be held in two vacant lots on which marquee tents have been erected, adjacent to the youth headquarters.
Jai Nanak, 29, stressed that the event was not a party, but a religious and cultural festival.
"The aim of the event is to get Sikhs to become spiritually connected to the guru. We want to rekindle what has been taught in our formative years," he said.
However, he added that the event was not meant only for Sikhs.
"It is open to anybody who wants to attend."
Sikh preacher Sarindar Singh said the first Sikh guru, Guru Nanak Dev Ji, laid down three fundamentals for the religion -- honest living, meditation on God and sharing whatever you have with others.
"That is why we pray not only for ourselves but for everyone, and we pray not only for mankind but for all living beings."
He said the Sri Guru Granth Sahib Ji was the centre of Sikh worship.
"It contains the teachings of six of our gurus as well as Hindu and Muslim saints and South Indian holy men."
The 1,430-page holy text, which takes 48 hours to read, is written in various languages, including Sanskrit, Punjabi and Persian.
"It is a universal scripture and affirms our belief in one formless God. The first words, in fact, are Ek Ong Kar which means 'There is only one God'," he said.