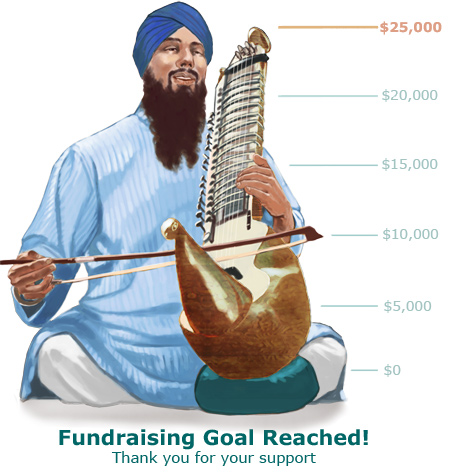 We've done it! Because of your generosity, along with the wonderful offer from the Sikh Spirit Foundation to match your donations Dollar-for-Dollar, we have now raised enough to get the new Gurbani Media Center online! Thank you for supporting this project!

For several years now we have been envisioning a completely new way to empower and inspire everyone with the Guru's Bani - something unlike any other Gurbani player or library that has existed before on the Internet. Not only will it provide a close tie between Gurbani music and text, but it will allow Gurbani to be shared with people in many new places and in many new ways.

We have designed the new Gurbani Media Center and begun development on it with the goal of making it available to all later this summer.





Watch the below video and read on for more details...
Imagine this:

Learn and understand Gurbani as you listen.


Complete integration of Gurubani text - NEW customized flash audio player with slide out window to display text of every shabd.


Dynamic, "Intelligent Search" to easily find any Shabd, Ragi, musician or genre of music.


Profile pages for every musician, album, author (Guru, Bhagat, etc)


User profiles let you explore what's hot with other SikhNet users and get automatic recommendations of music you might enjoy


Create your own personal radio station - broadcast the artists and music you like


Easy subscription to Gurbani Archive feeds, just like iTunes


Create and save your own playlists


Completely new interface and player


We will be opening up our audio library so you can download from SikhNet's Comprehensive Gurbani library and listen locally!


Upload your own Gurbani recordings into the new system and share them with everyone


Rate, forward, recommend and share your fave tracks


Customizable, open architecture allows you to display and play Gurbani Audio dynamically in your own application or website
Read More...


This is NOT a software program that you install on your computer or just a simple web audio player. This is a full social audio media website for Gurbani. (Similar in some ways to www.Last.fm website)




SikhNet Email Lists:
Over 33,000 Sikhs all over the world enjoy SikhNet emails. Select the emails you would like to receive.